Alinto Pro
Because your activity cannot work without an email hosting service, you have to be supported by a great Cloud email service, which has already convinced more than 15 000 companies and 3 million users over the last 15 years.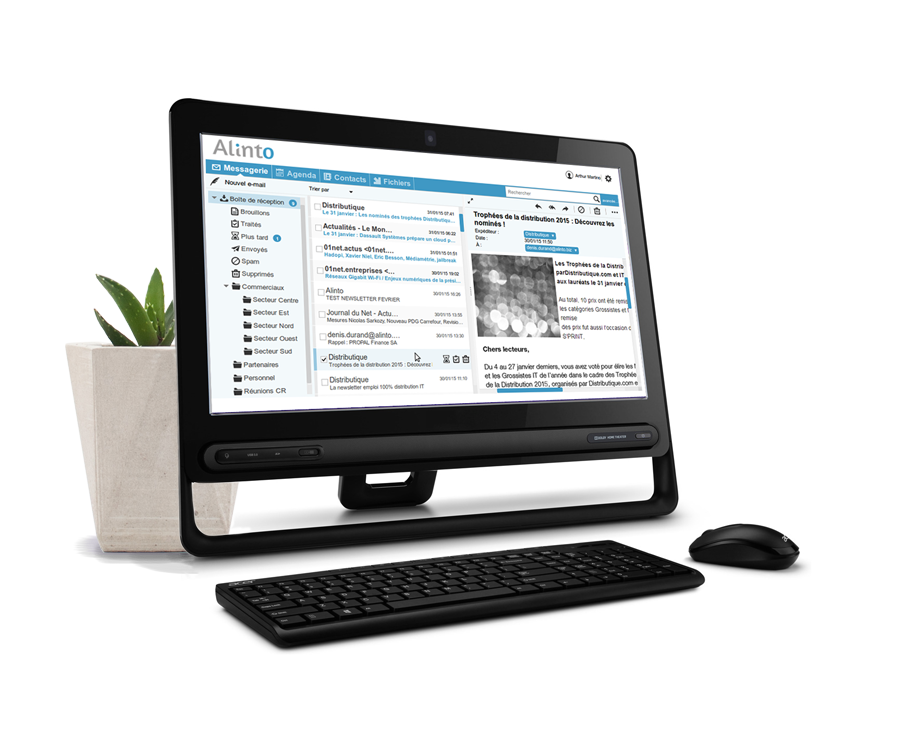 A collaborative Cloud email solution
A unified Cloud email service for professionals
Discover Alinto Pro, the most complete email hosting service: a mobile and powerful web based email, also compatible with any mail clients, documents, calendars or contacts just a click away. Those services are always available through the POP, IMAP, Activ  Sync, CalDAV synchronization. Compatible with all browsers (Google Chrome, Firefox, Internet Explorer, Safari…) and market environments (Windows, Mac, Linux…), your email is totally in the Cloud.
A fully secured hosting service
All your data is secured with encrypted protocols and protected by antivirus and powerful anti-spam. Your information is stored in Europe on a secured Cloud. Our teams supervise 24/7 platforms andreact instantly in case of trouble. On the email side, our partnership with Signal Spam, allows you to denounce controversial messages in a few clicks, so you can enjoy your hosted emails in the best conditions.
Service and mobility in your email, this is the key !
Alinto Pro is available at any time and for any types of uses. You can access your hosted pro emails from a mail client (Outlook, Mail,Thunderbird…) or from the innovative webmail. Also gift with an intuitive touch interface, your emails follow you everywhere, both on a computer to your phone.
Using or offering my users a professional Cloud email solution looks like a great idea!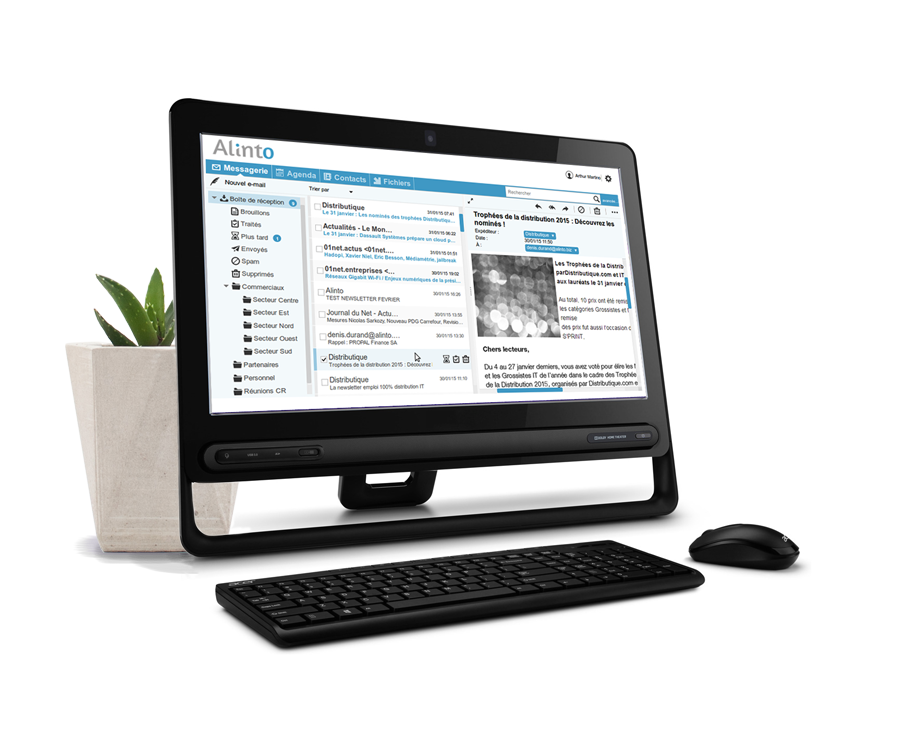 Alinto Pro is available in a web based solution, fully hosted on Alinto's infrastructure. You only pay what you use. No more operational and safety issues. Our experts run this service available 24/7/365 and our support ensures you a personalized care.
Our high-availability and independant infrastructures are entirely managed by our internal teams. We control the deliverability of emails on all stages: firewall, antivirus, antispam, redundant servers, secured storage, applicative solutions, backup on different data centers. In short, Alinto Pro is a complete collaborative email hosting service "a la carte"!
I want to know more about Alinto Pro
Use the direct shortlinks in the inbox for a better experience of the collaborative email hosting service Alinto Pro