Alinto's Bulk Email Gateway
 Alinto's Bulk Email Gateway is a smart SMTP Relay that allows your servers and applications to securely and easily send large volumes of transactional or marketing messages.

Our "Clean Traffic" technology, ensures fast delivery directly into the recipient's inbox while eliminating the risk of having your email servers blocked by spam detection (IP blacklisting) systems.
Why your organization should use Alinto Gateway
Specifically developed for sending

transactional messages – i.e. invoices, order/delivery confirmations, appointment reminders, etc.

Helps avoid the risk of having your email servers

blacklisted

Protect the reputation of your domain and the IP addresses of your corporate network.

Advanced Interface

for tracking and reporting on sent messages.
Usage monitoring
Prevents from accidentally overloading your email server.
Our "Clean Traffic" SMTP Relay secures your messaging systems
How does it work?
Alinto Gateway allows you to transparently send messages from your normal IP addresses or domains. However, instead of being sent directly from your outbound mail server, your messages are routed to our system which intelligently optimize your traffic according to rules set by the different inbox providers (Google, Hotmail, Yahoo, etc.) Respecting these rules and message volume is key to getting messages delivered, and to avoid being blacklisted by large commercial ISPs.
SECURE: links between your servers or applications and the Alinto Gateway are secured with SSL encryption.
FLEXIBLE: Alinto Gateway can also be deployed on premise for large configurations.
SCALABLE: Product capabilities can adapts to millions of messages.
Bulk mailing to multiple recipients

Alerting
Notifications
Reminders
Newsletters
Press releases
Commercial communications
Event Organizations
Meetings
Community of interest
Advanced reports:
Smart dashboards to track messages and system utilization
Customizable interface via simple drag & drop
Real-time status: sent, deferred, bounced, rejected, expired
Filter and report on message delivery status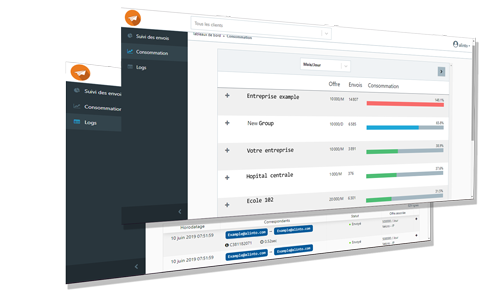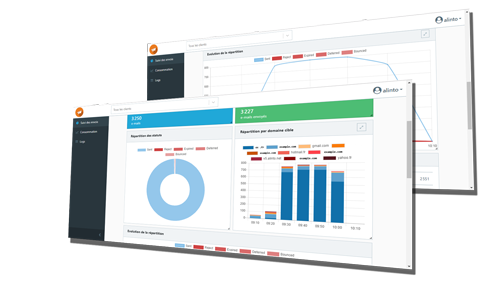 Monitoring:
Interface for all System Logs
Real-time usage monitoring
Alerting: exceeded thresholds
Alerting: over-quota
Stop running the risk of having your corporate email servers blocked. Keep your systems responsive by not sending large campaigns from your servers. Ensure 99.99% uptime and continuity for important transactional messages.
When it comes to sending transactional bulk email or large campaigns to your users & clients, the Alinto Bulk Email Gateway is the affordable and flexible solution you have been waiting for – send us a message today to start your free test.
Customization
When it comes to bulk email, Alinto Gateway is the solution. What's the point in being blocked?